For over 28 years, KISS Packaging Systems has manufactured a variety of simple, yet advanced in-line and rotary packaging systems. These machineries include but are not limited to the Overflow Fillers, Timed-Flow Fillers, Positive Displacement Pump Fillers, Piston Fillers, Auger Fillers, Vacuum Fillers, and Net Weight Filling equipment. Whether you are looking for an Automatic or Semi-Automatic filling system, KISS has you covered. From single bottle filling machines to complete turn-key packaging systems our equipment can accommodate almost any of your liquid packaging needs.
KISS & ACCUTEK MACHINES IN ACTION
FILL A VARIETY OF BOTTLES, RELIABLY.
KISS Automatic Positive Displacement (APD) Fillers have been specifically designed and built to handle both the thinnest and most viscous liquid products on the market. Advanced PLC controls in combination with color touch screen displays allow operators of the APD machines to accurately control product flow and speed to each individual filling head resulting in incredibly accurate fills. The APD fillers are specially programmed with an upsurge fill cycle which provides the additional benefit of reducing splash and delivering precise fills for viscous products.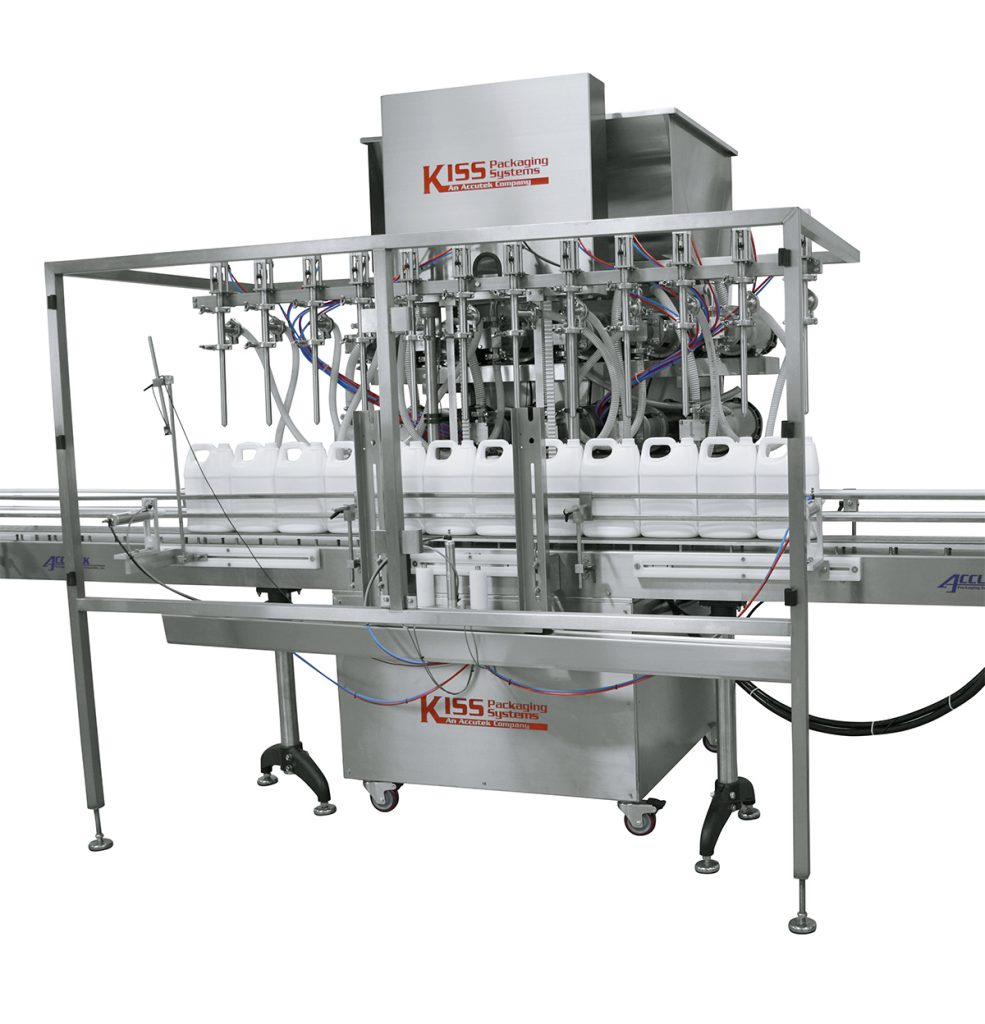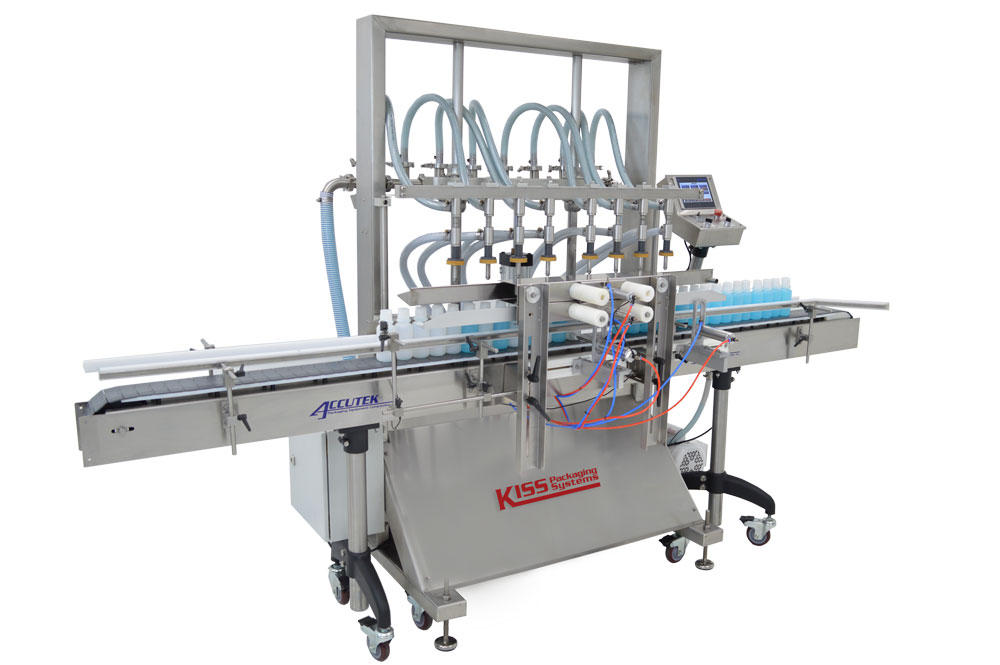 Automatic pressure overflow fillers are best suited for low to medium viscosity (200 cP) liquids. The precision engineered overflow nozzles guarantee that every container is filled to the same visual level. Boutique products, personal care, and food products must present the same visual fill level when arranged on a shelf together. APOF fillers are an economical and reliable solution to that problem. In addition, the pneumatic APOF series fillers safely handle flammable liquids, such as acetone and light paints.
"I just wanted to drop a note to say what a great group of employees you have. Jimmy and Scott did an excellent job this week at BHI. They worked hard and they worked very well with our employees."

"Robert J."
"The piston filler is working great!!! It's outstanding. It has really helped us a lot. We're taking things to new levels!"

"Sherri P."
SEMI AND FULLY AUTOMATIC SOLUTIONS?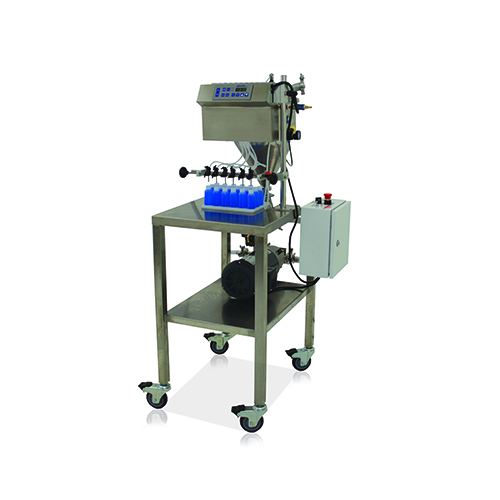 Example uses include:
Water, fruit juice, alcohol, sports drinks (non carbonated), tea, lemonade, energy drinks, energy shots, or any other non carbonated beverage.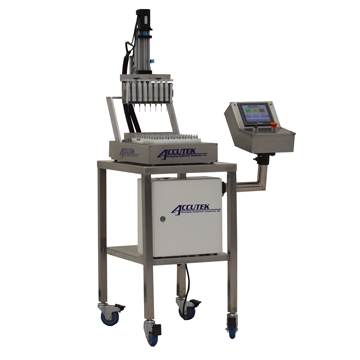 Some example uses are:
Mouthwash, cough syrups, liquid vitamins, liquid stomach relief, nasal rinses, eye drops, contact solution, or any other similar products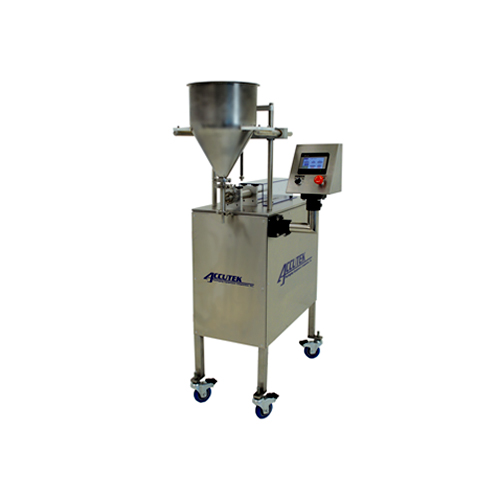 Some example uses are:
Shampoo, liquid hand soaps, hand sanitizers, hair styling gel, conditioners, liquid bubble bath or any other like liquid soap or hair care product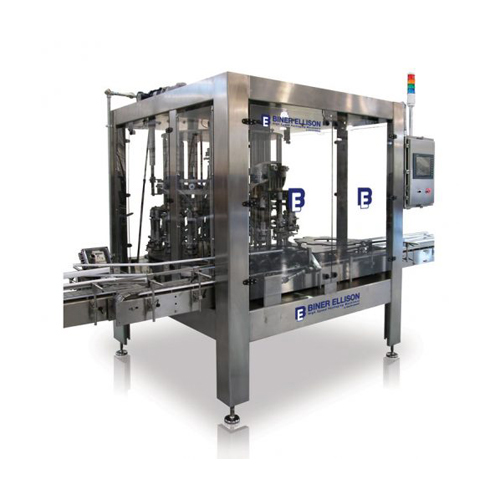 Some example uses are:
Thin products includeing table top cleaners, carpet cleaners, concentrated cleaning products, thin dish soaps, bleach or any other similar products. Thick products include drain cleaners, detergents, degreasers, and any other similar products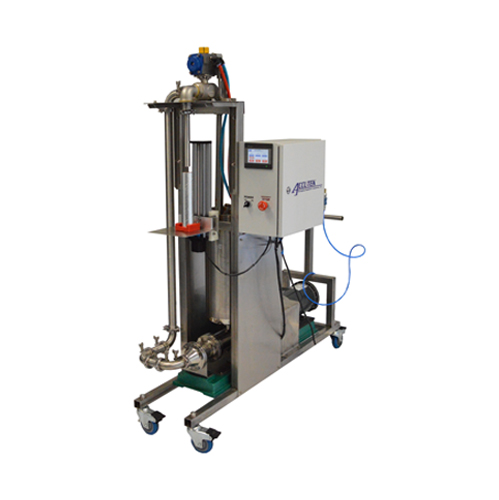 Example uses include:
Thin products including dye, thin degreasers, liquid polish, thin solvents any other similar products. Thick products include glue, epoxies, caulking compounds, motor oils, and any other similar products.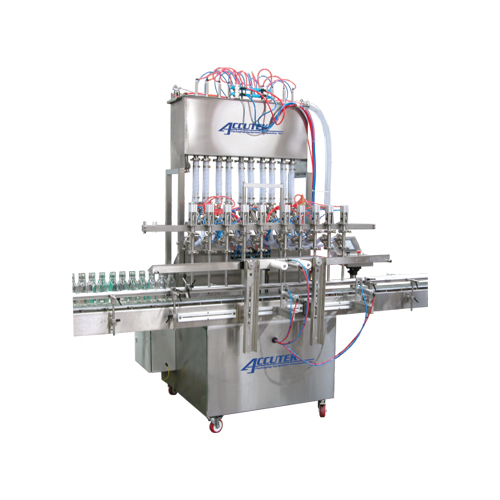 Example uses include:
Salad dressings, spaghetti sauces, chunky peanut butter, salsas, dips, cottage cheese, and other similar food products
Need a Customized Solution?
2980 Scott St,

Vista, CA 92081